Business ethics, integrity, and compliance are often relatively new concepts for businesses in emerging markets, most of which are small and medium-sized enterprises (SMEs). To help SMEs realize the benefits of business integrity and offer practical suggestions to implement robust mechanisms for compliance and ethics, the Center for International Private Enterprise (CIPE) published the Strengthening Ethical Conduct & Business Integrity: A Guide for Companies in Emerging Markets in December 2020.
The Guide offers practical recommendations to small business owners on how to apply existing anti-corruption compliance tools to their operations and growing needs for effective risk mitigation strategies and approaches.
This new publication *Doing Business with Integrity: Stories from Small-and Medium-Sized Enterprises in Europe and Eurasia *seeks to supplement the Guide by providing specific, real-world examples of both business integrity challenges that companies face and approaches they use to overcome such challenges.
Related publications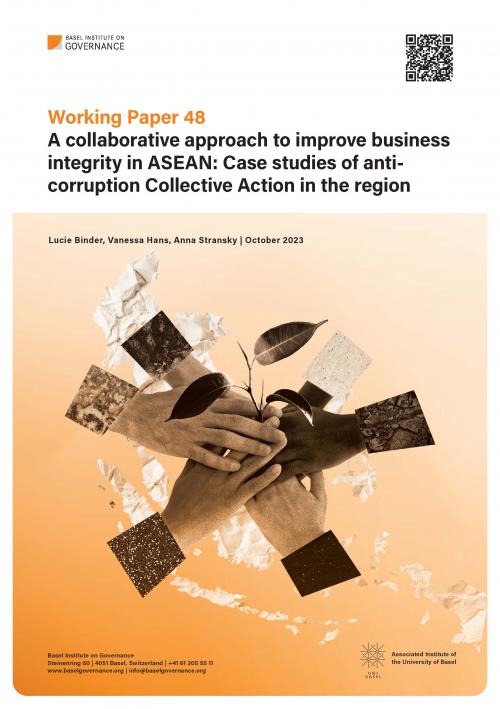 Working paper
Working Paper 48: A collaborative approach to improve business integrity in ASEAN: Case studies of anticorruption Collective Action in the region
2023 | Basel Institute on Governance
Lucie Binder, Vanessa Hans, Anna Stransky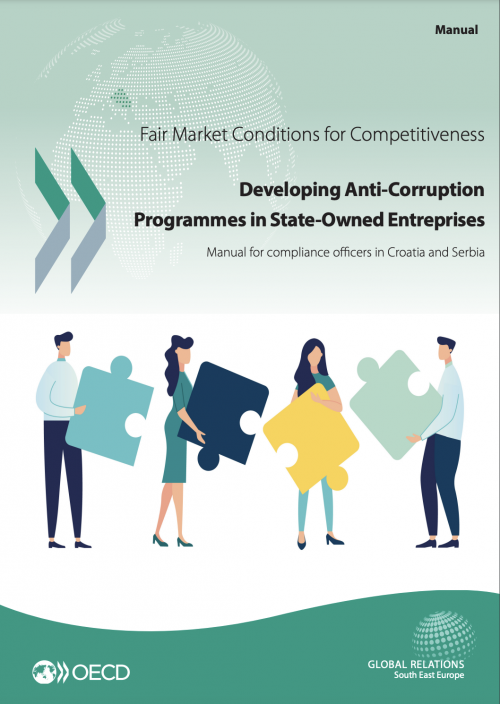 Guidelines
Developing Anti-Corruption Programmes in State-Owned Entreprises: Manual for compliance officers in Croatia and Serbia
2023 |
OECD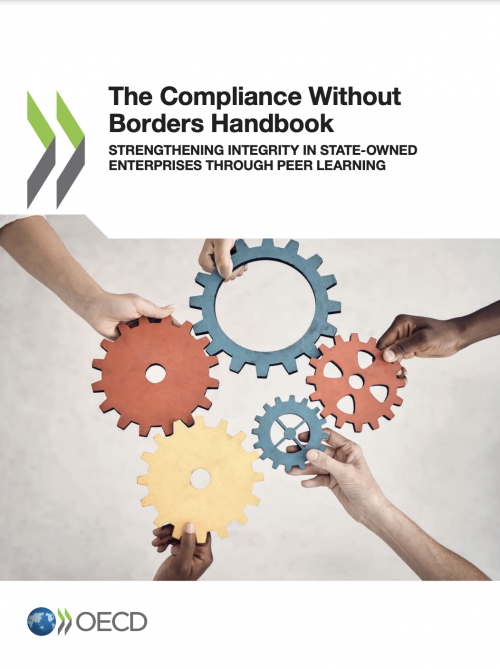 Guidelines
The Compliance Without Borders Handbook
2023 |
OECD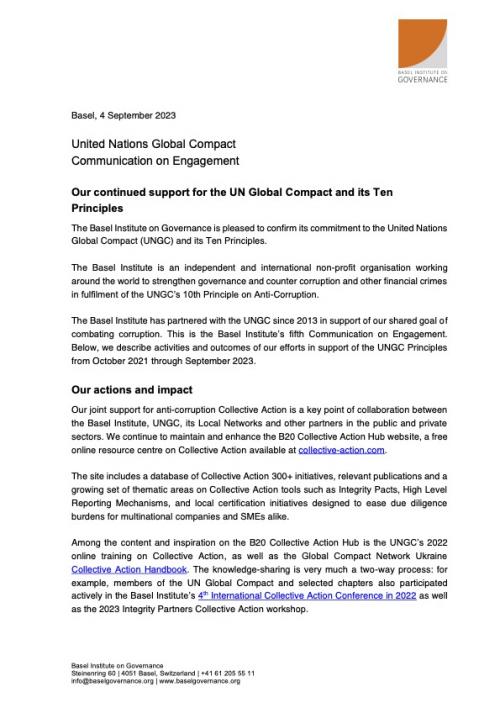 Report
United Nations Global Compact: Communication on Engagement 2023
2023 |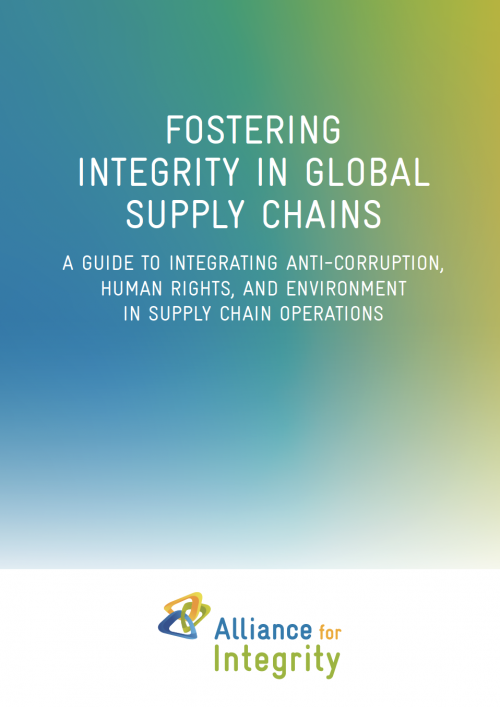 Guidelines
Fostering Integrity in Global Supply Chain
2023 | Alliance for Integrity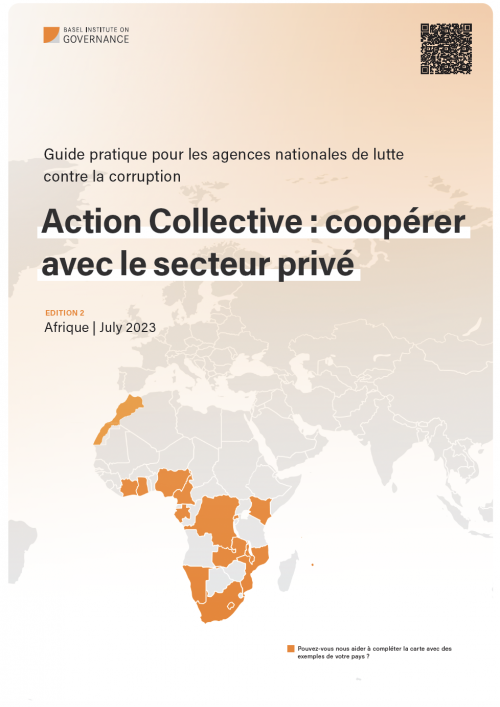 Guidelines
Action Collective - Coopérer avec le Secteur Privé: Guide Pratique pour les Agences Nationales de Lutte Contre la Corruption
2023 | Basel Institute on Governance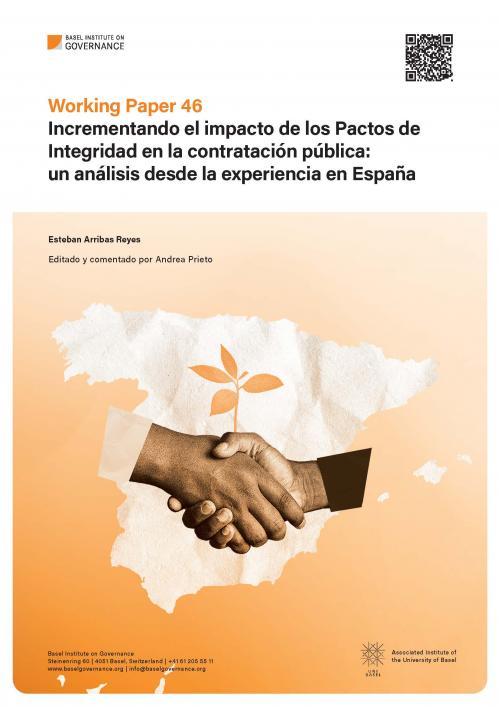 Working paper
Working Paper 46: Incrementando el impacto de los Pactos de Integridad en la contratación pública: un análisis desde la experiencia en España
2023 | Basel Institute on Governance
Esteban Arriba…
integrity pacts
public procurement
clean procurement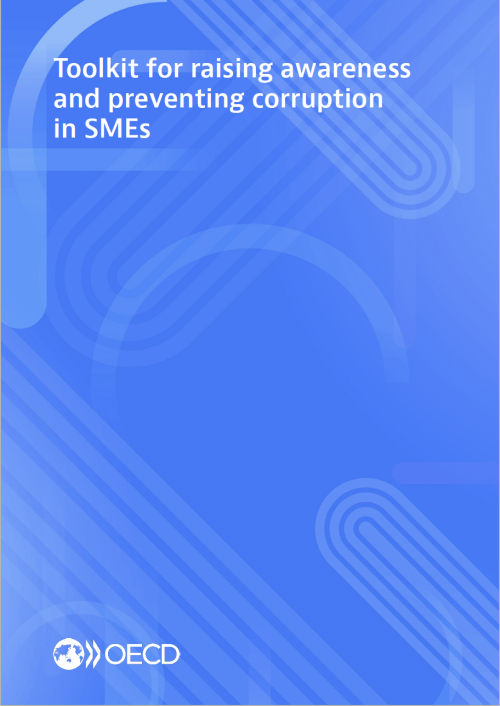 Guidelines
OECD Toolkit for raising awareness and preventing corruption in SMEs
2023 | OECD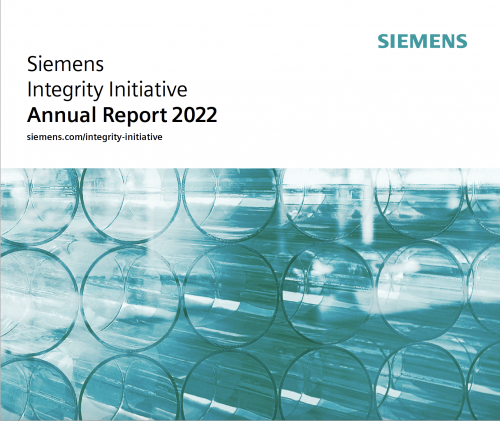 Annual report
Siemens Integrity Initiative Annual Report 2022
2023 | Siemens AG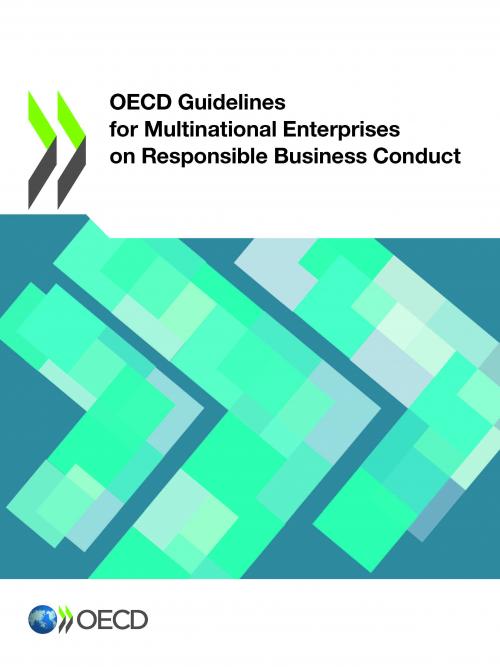 Guidelines
Guidelines for Multinational Enterprises on Responsible Business Conduct
2023 | OECD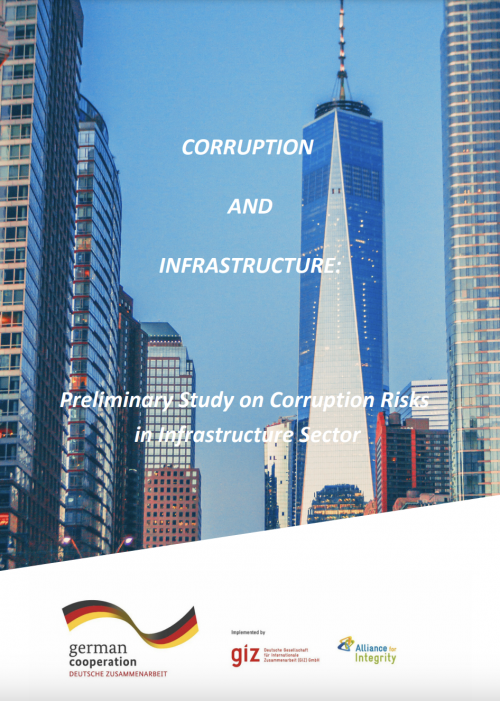 Case study
Corruption and Infrastructure: Preliminary Study on Corruption Risks in Infrastructure Sector
2023 | Alliance for Integrity
Lakso Anindito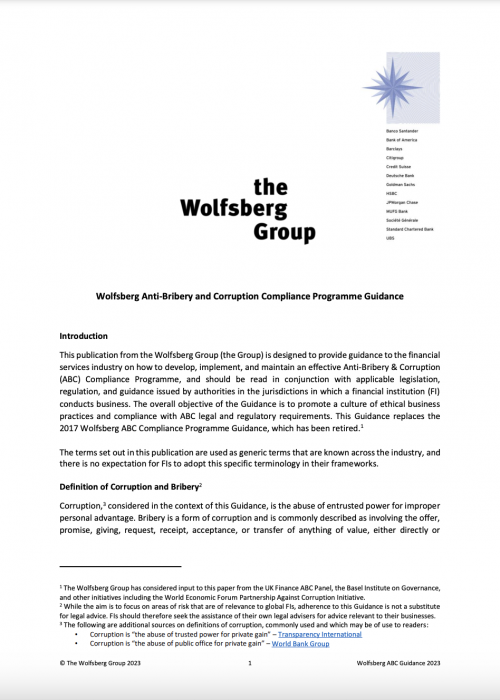 Guidelines
Wolfsberg Anti-Bribery and Corruption Compliance Programme Guidance
2023 | Wolfsberg Group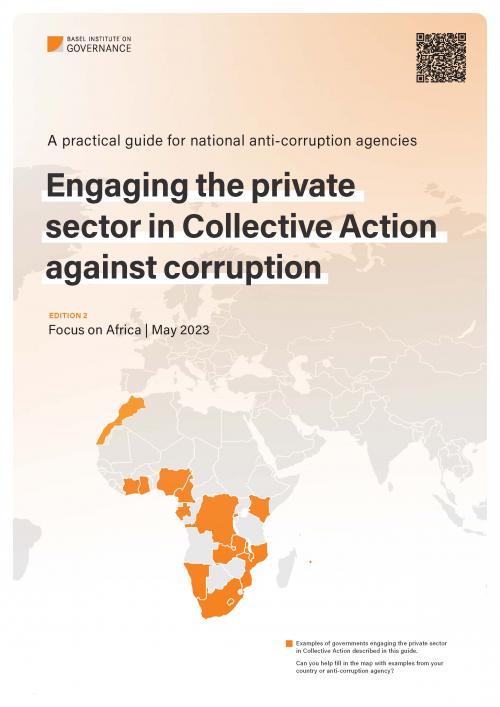 Guidelines, Report
Engaging the private sector in Collective Action against corruption: A practical guide for anti-corruption agencies in Africa
2023 | Basel Institute on Governance
Scarlet Wannenwetsch, Liza Young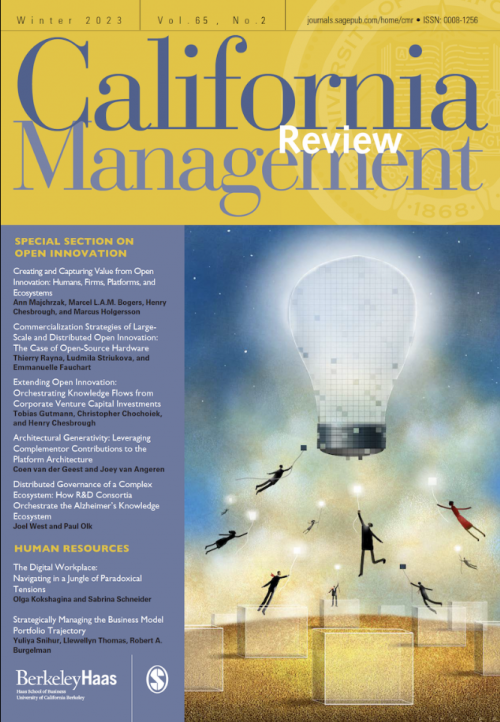 Article
The B20 Integrity and Compliance Recommendations: An International Framework for Action
2023 | California Management Review
Gemma Aiolfi, Scarlet Wannenwetsch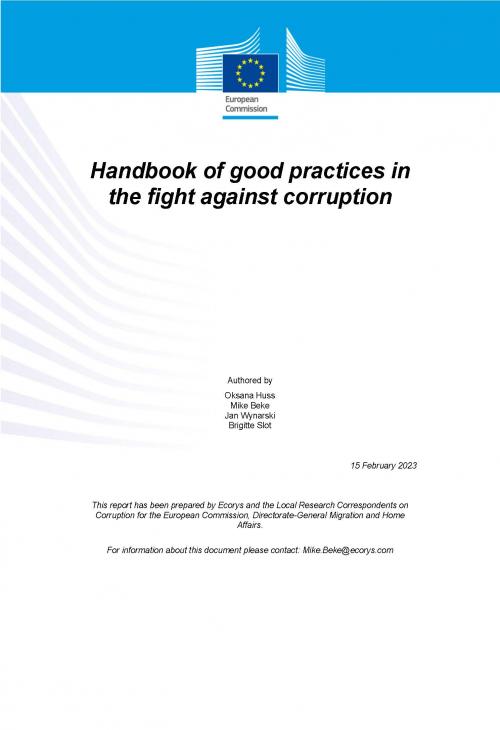 Guidelines
Handbook of good practices in the fight against corruption
2023 | European Commission, Directorate-General for Migration and Home Affairs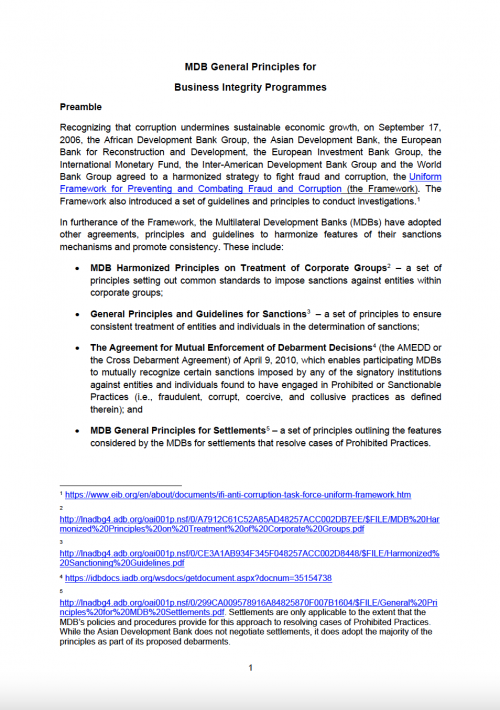 Guidelines
MDB General Principles for Business Integrity Programmes
2023 | African Development Bank Group, the Asian Development Bank, the European Bank for Reconstruction and Development, the European Investment Bank Group, the International Monetary Fund, the Inter-American Development Bank Group and the World Bank Group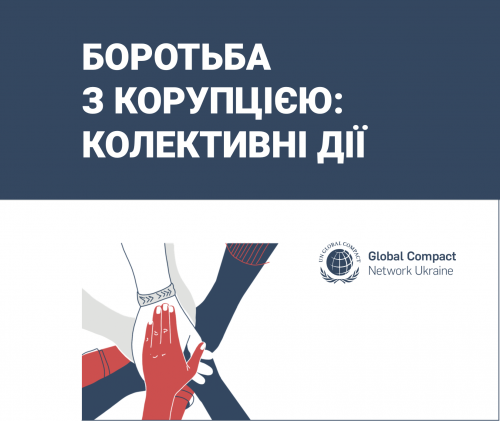 Quick guide
UNGC handbook - Fighting corruption: Collective Action.
2023 | UN Global Compact Network Ukraine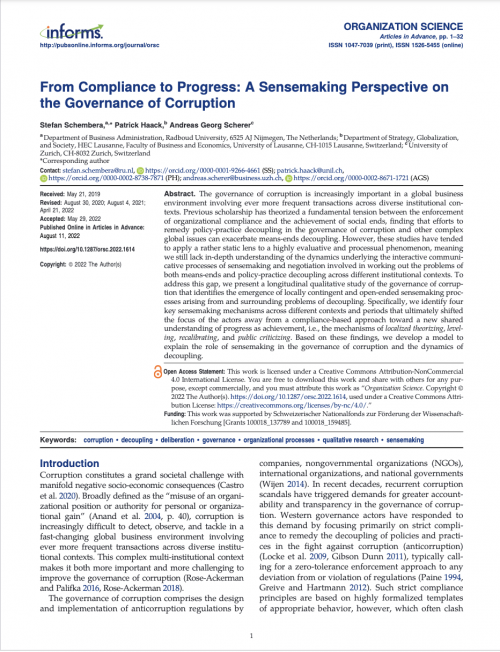 Article
From Compliance to Progress: A Sensemaking Perspective on the Governance of Corruption
2023 | Organization Science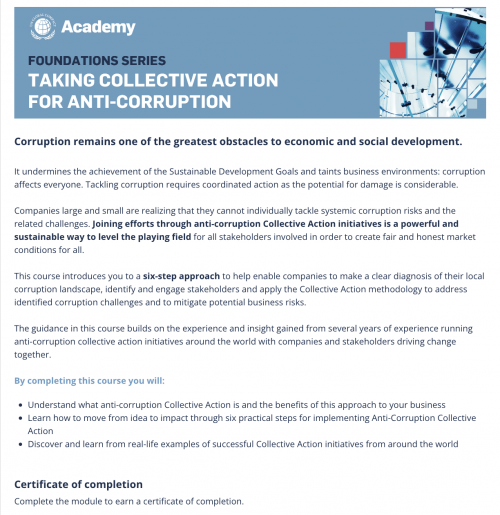 Quick guide
eLearning - Taking Collective Action for Anti-Corruption
null | UN Global Compact Academy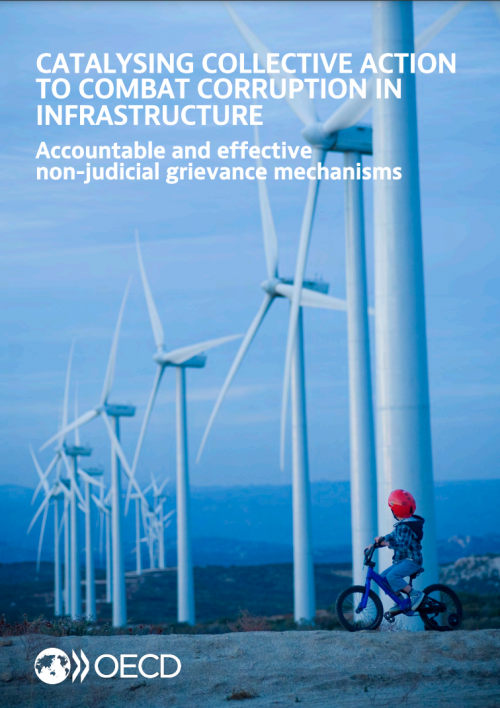 Report
Catalysing Collective Action to combat corruption in infrastructure
2022 | Organisation for Economic Co-operation and Development