Every day, an unknown number of elephant tusks, rhino horn, pangolin scales and other wildlife products – alive and dead – cross the oceans in container ships and cargo flights for use in traditional medicine, crafts and the illegal pet trade. Rare trees are felled in ancient forests and shipped out under false certificates.
They leave behind the butchered carcasses of the last remaining animals of many species, scarred and emptied landscapes, legal livelihoods undermined by corruption and criminal activity, and communities ravaged by organised crime networks.
The Basel Institute is contributing to tackling illegal wildlife trade and its negative impacts on communities, economies and biodiversity from the angle of financial crime. This quick guide by our Managing Director Gretta Fenner gives an insight into our approach and how our various areas of expertise fit together to help solve this complex puzzle.
About this Quick Guide
This work is licensed under a Creative Commons Attribution-NonCommercial-NoDerivatives 4.0 International License. It is part of the Basel Institute on Governance Quick Guide series, ISSN 2673-5229.
Related publications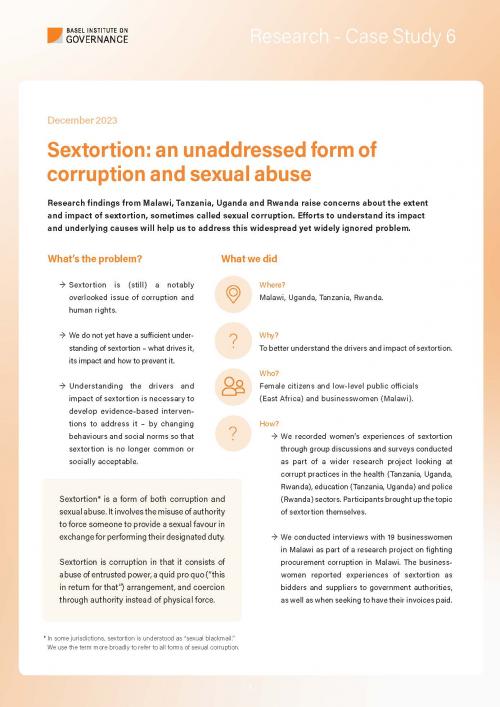 Research case study
Research Case Study 6: Sextortion – an unaddressed form of corruption and sexual abuse
2023 | Basel Institute on Governance
Johanna Schönberg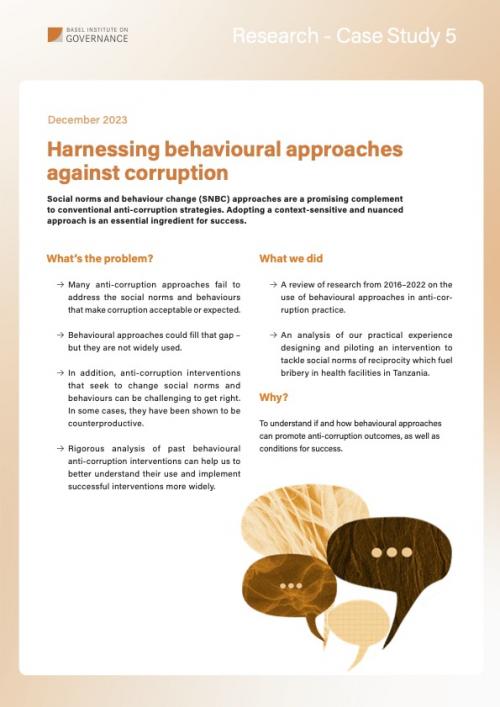 Research case study
Research Case Study 5: Harnessing behavioural approaches against corruption
2023 | Basel Institute on Governance
Claudia Baez Camargo, Saba Kassa
informal networks
social norms
behavioural research
anti-corruption messaging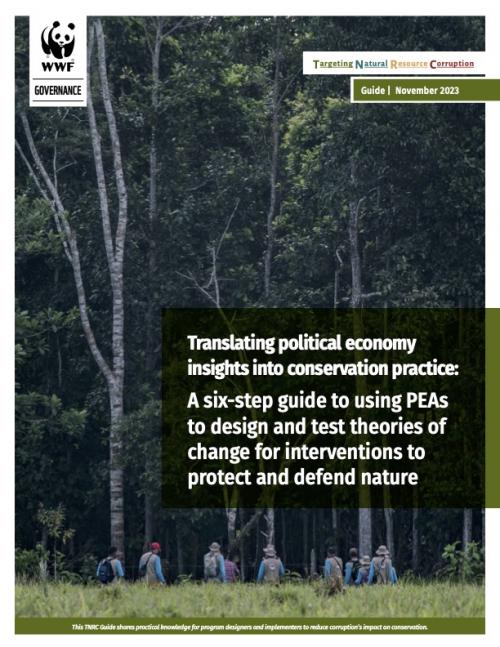 Guidelines
Translating political economy insights into conservation practice: a six-step guide
2023 | Targeting Natural Resource Corruption (TNRC) project
Micol Martini, Saba Kassa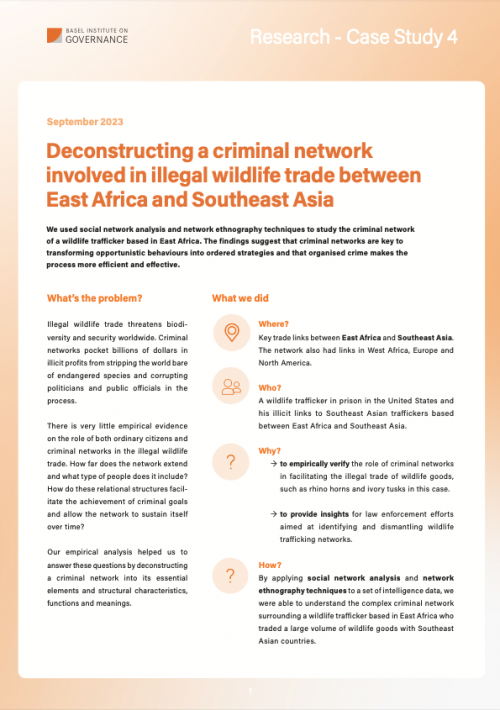 Research case study
Research case study 4: Deconstructing a criminal network involved in illegal wildlife trade between East Africa and Southeast Asia
2023 | Basel Institute on Governance
Jacopo Costa
social network analysis
network ethnography
illegal wildlife trade
informal governance
East Africa
Southeast Asia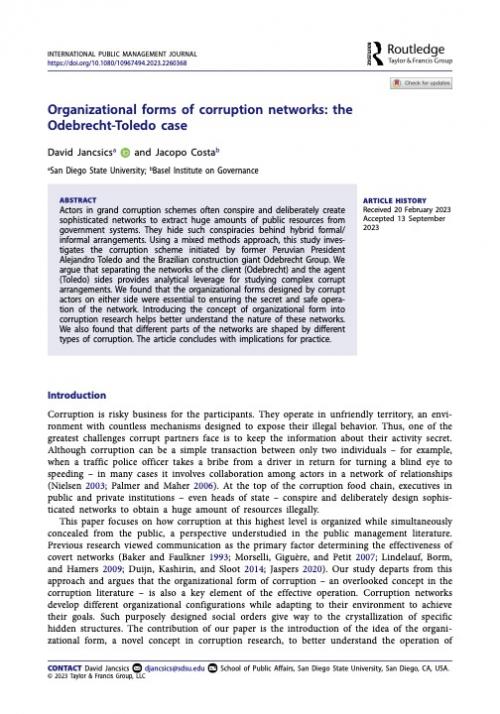 Article
Organisational forms of corruption networks: the Odebrecht-Toledo case
2023 |
David Jancsics, Jacopo Costa
social network analysis
money laundering
organised crime
criminal networks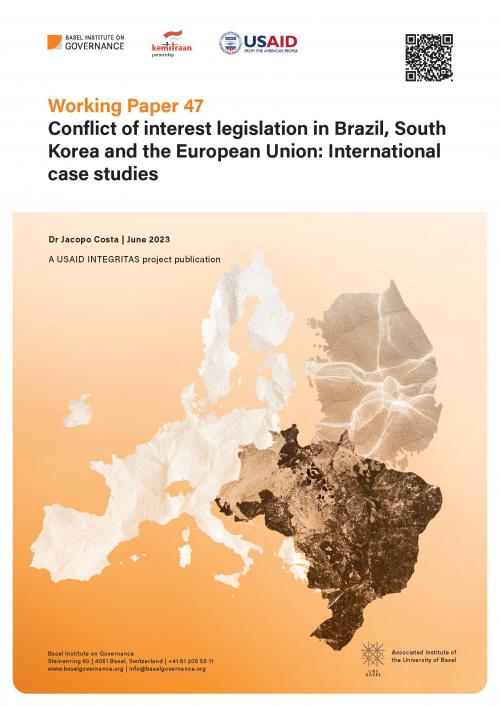 Working paper
Working Paper 47: Conflict of interest legislation in Brazil, South Korea and the European Union: International case studies
2023 | Basel Institute on Governance
Jacopo Costa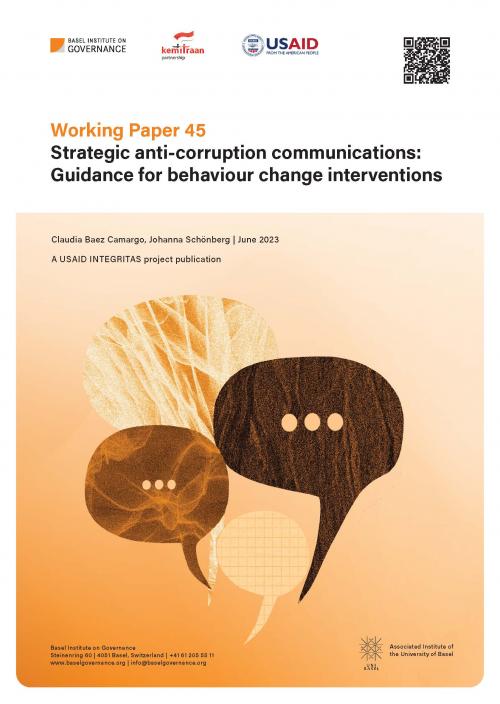 Working paper
Working Paper 45: Strategic anti-corruption communications – Guidance for behaviour change interventions
2023 | Basel Institute on Governance
Claudia Baez Camargo, Johanna Schönberg
behaviour change
anti-corruption interventions
anti-corruption messaging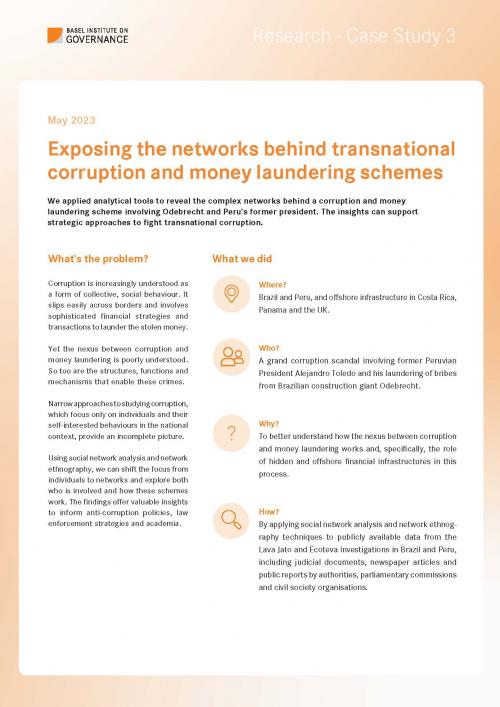 Research case study
Research Case Study 3: Exposing the networks behind transnational corruption and money laundering schemes
2023 | Basel Institute on Governance
Jacopo Costa
social network analysis
network ethnography
informal governance
corruption research
money laundering
offshore structures
secrecy jurisdictions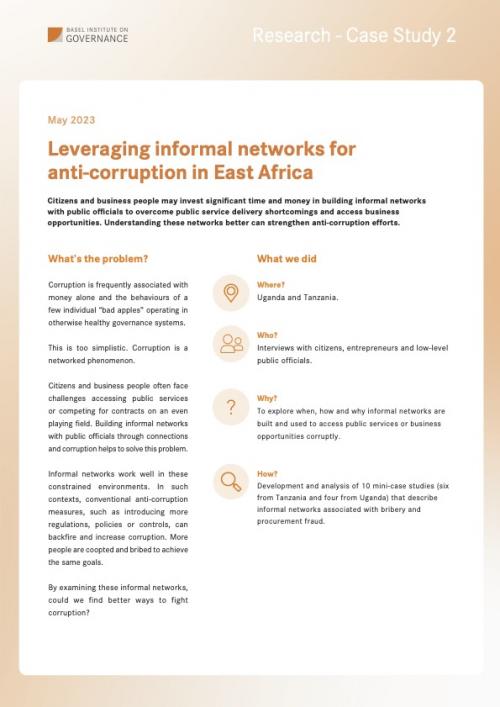 Research case study
Research case study 2: Leveraging informal networks for anti-corruption in East Africa
2023 | Basel Institute on Governance
Claudia Baez Camargo, Saba Kassa, Jacopo Costa
informal networks
informal governance
social norms
behavioural research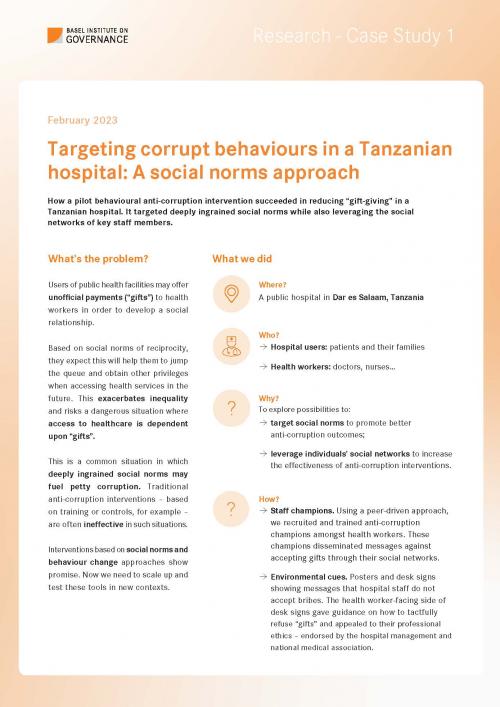 Research case study
Research case study 1: Targeting corrupt behaviours in a Tanzanian hospital: A social norms approach
2023 | Basel Institute on Governance
Claudia Baez Camargo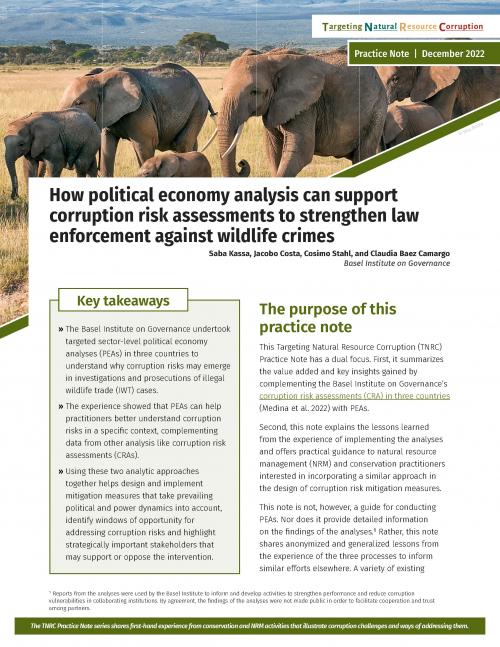 How political economy analysis can support corruption risk assessments to strengthen law enforcement against wildlife crimes
2022 | Targeting Natural Resource Corruption (TNRC) project
Saba Kassa, Jacopo Costa, Cosimo Stahl, Claudia Baez Camargo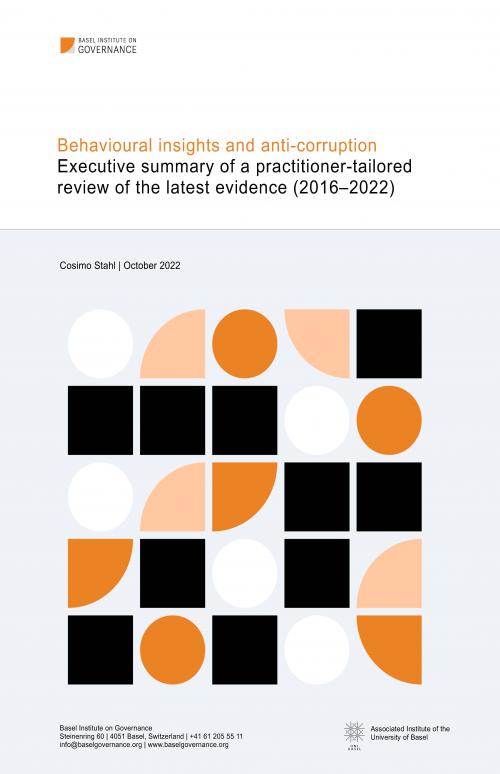 Commissioned study, Report
Behavioural insights and anti-corruption: Executive summary of a practitioner-tailored review of the latest evidence (2016–2022)
2022 | Basel Institute on Governance
Cosimo Stahl
anti-corruption
social norms
behaviour change
realist synthesis
behavioural insights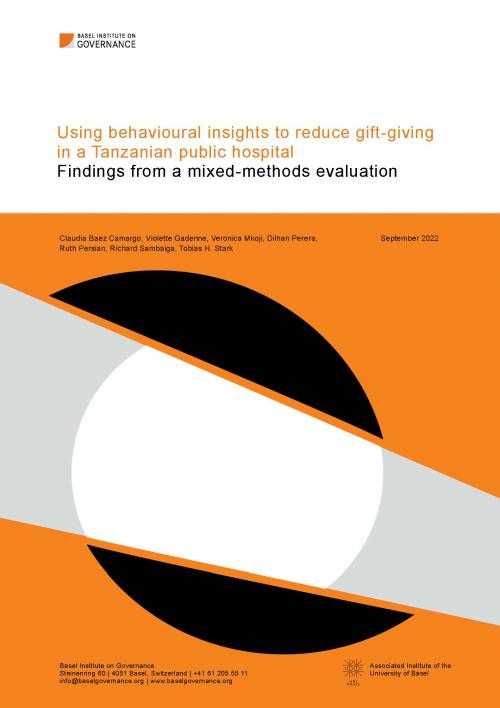 Commissioned study, Report
Using behavioural insights to reduce gift giving in a Tanzanian public hospital: Findings from a mixed-methods evaluation
2022 | Basel Institute on Governance
Claudia Baez Camargo, Violette Gadenne, Veronica Mkoji, Dilhan Perera, Ruth Persian, Richard Sambaiga, Tobias Stark
anti-corruption
health care
behavioural approaches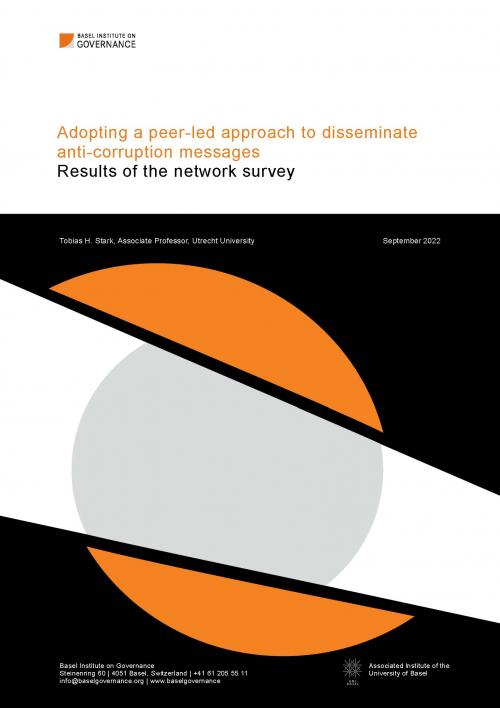 Commissioned study, Report
Adopting a peer-led approach to disseminate anti-corruption messages: Results of the network survey
2022 | Basel Institute on Governance
Tobias Stark
social network analysis
behavioural insights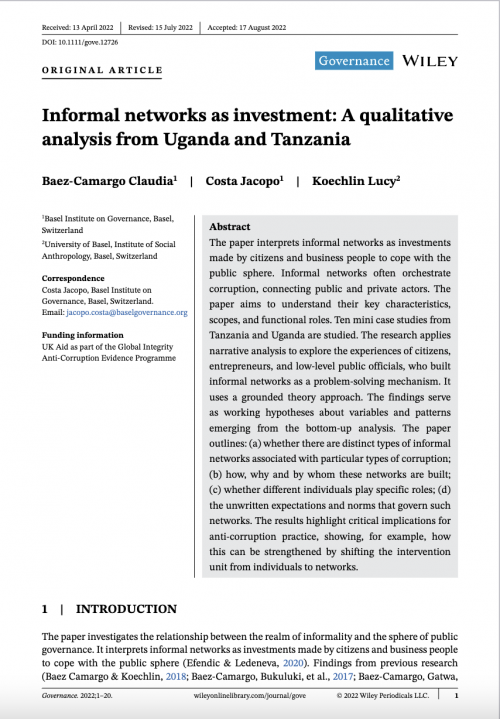 Article
Informal networks as investment: A qualitative analysis from Uganda and Tanzania
2022 | Governance (Wiley-Blackwell on behalf of the IPSA Structure and Organization of Government Committee)
Claudia Baez Camargo, Jacopo Costa, Lucy Koechlin
informal networks
informal governance
anti-corruption
social norms
behavioural research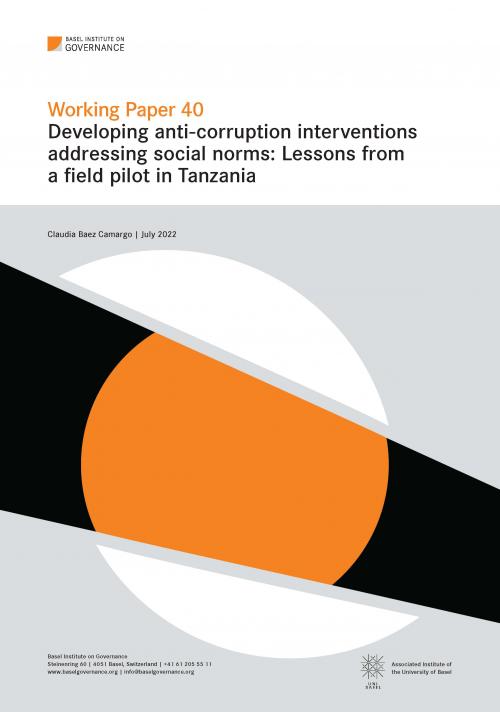 Working paper
Working Paper 40: Developing anti-corruption interventions addressing social norms: Lessons from a field pilot in Tanzania
2022 | Basel Institute on Governance
Claudia Baez Camargo
social norms
behavioural insights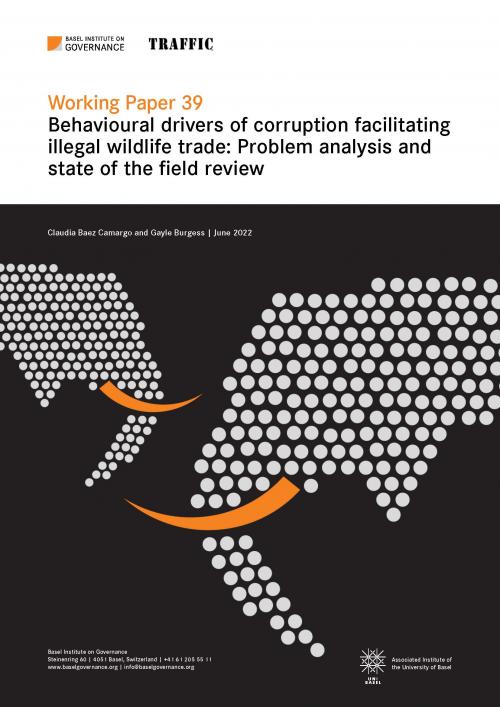 Article, Commissioned study
Working Paper 39: Behavioural drivers of corruption facilitating illegal wildlife trade – Problem analysis and state of the field review
2022 | Basel Institute on Governance; TRAFFIC
Claudia Baez Camargo, Gayle Burgess
natural resource management
illegal wildlife trade
social norms
behavioural insights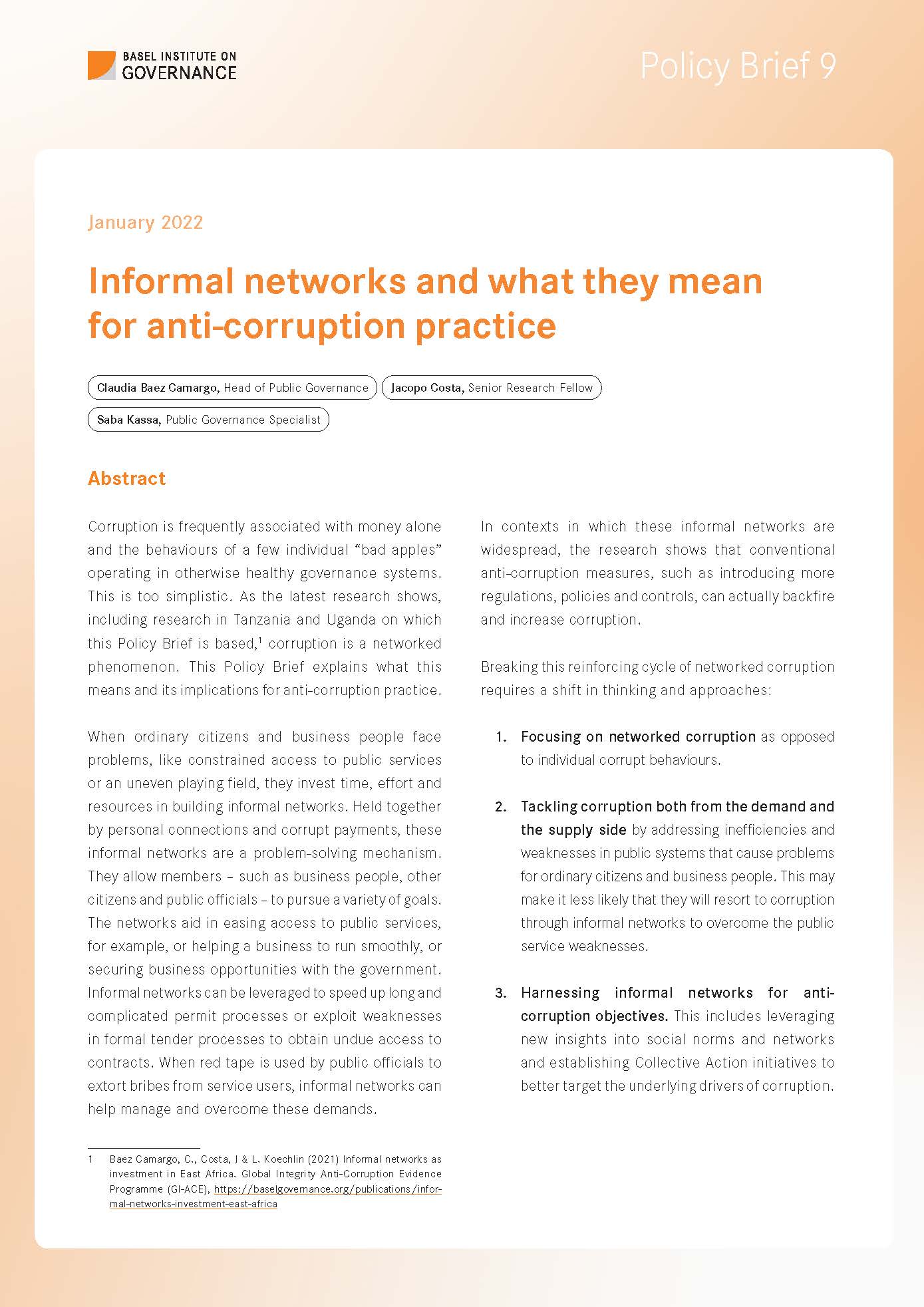 Policy brief
Policy Brief 9: Informal networks and what they mean for anti-corruption practice
2022 | Basel Institute on Governance
Claudia Baez Camargo, Jacopo Costa, Saba Kassa
informal networks
anti-corruption
anti-corruption evidence
East Africa
Collective Action
corruption
informal governance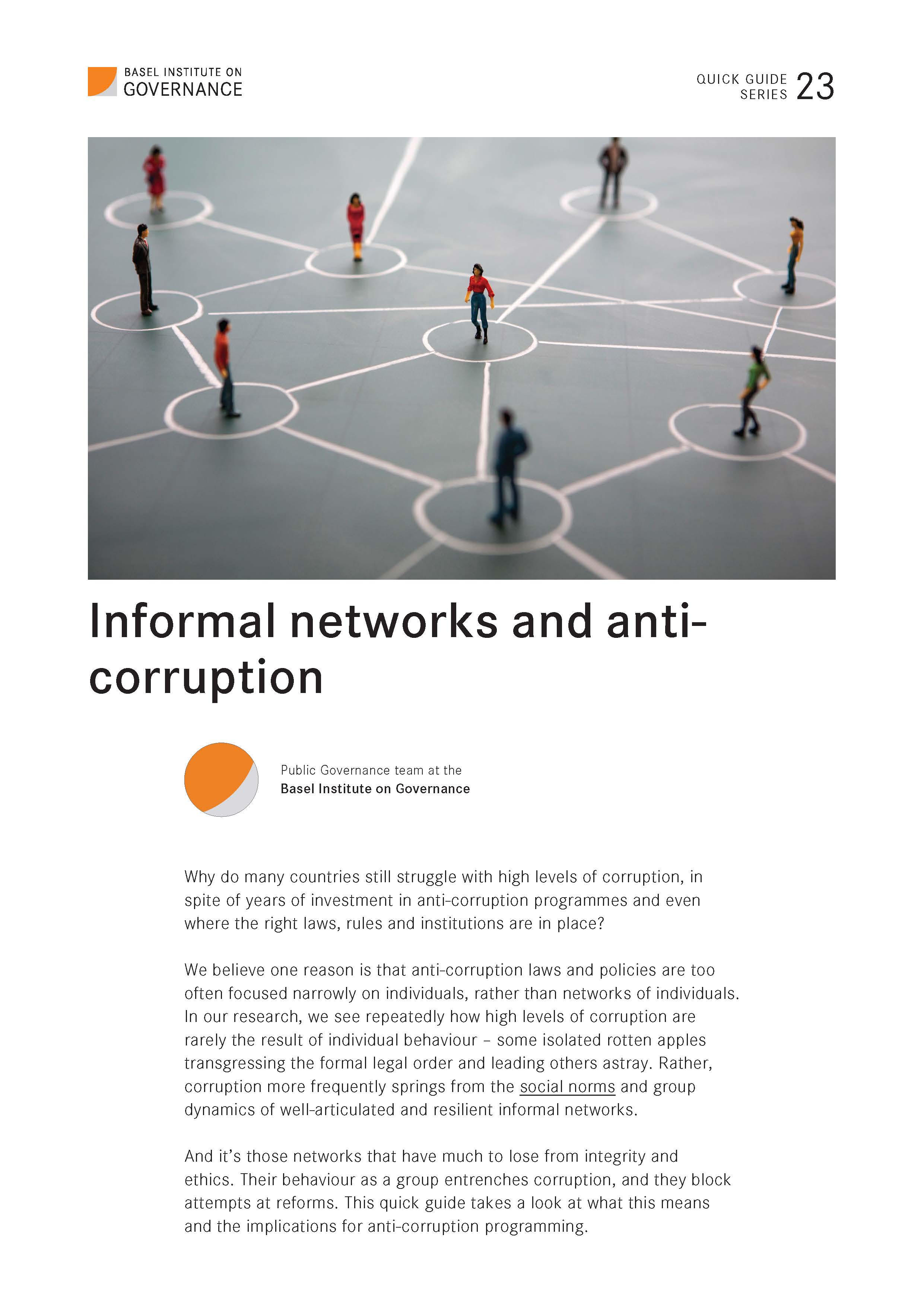 Quick guide
Quick Guide 23: Informal networks and anti-corruption
2022 | Basel Institute on Governance
Jacopo Costa, Claudia Baez Camargo, Saba Kassa, Cosimo Stahl
informal governance
informal networks
social network analysis
social norms
behavioural insights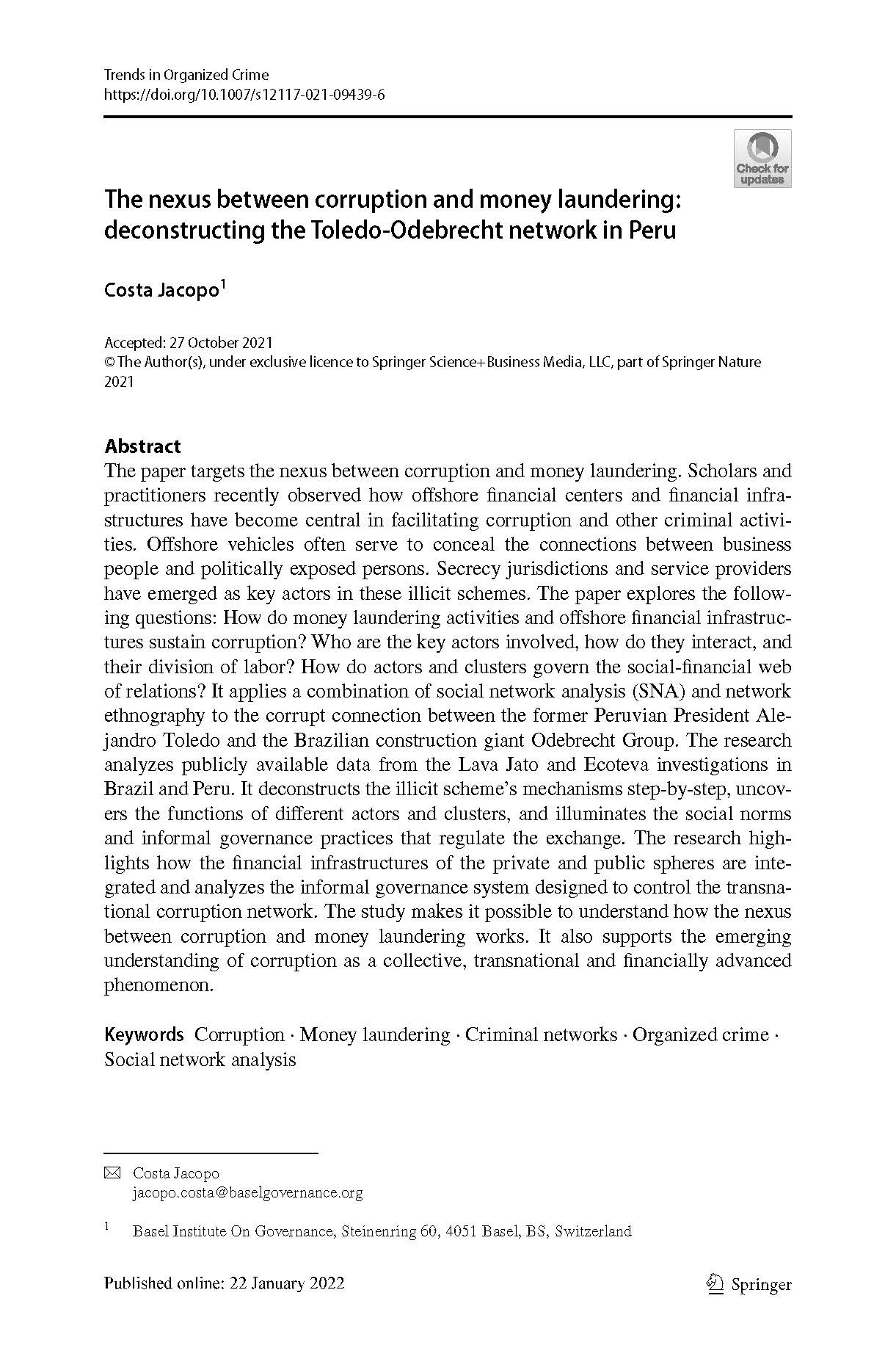 Article
The nexus between corruption and money laundering: deconstructing the Toledo‑Odebrecht network in Peru
2022 | Trends in Organized Crime
Jacopo Costa
corruption
money laundering
criminal networks
organised crime
social network analysis