Our Annual Report 2019 highlights our achievements in the past year, but also looks forward to the future. It is a chance to reflect on how corruption and governance are changing around the world and how we are adapting to new challenges. It is also a chance to thank, once again, our partners and donors for their unwavering support.
Here is the foreword by Managing Director Gretta Fenner and President of the Board Mark Pieth.
Corruption and poor governance: enemies of the people
As we write this note for our annual report, the world has become a different place. A global pandemic is spreading fast, globalisation has come to a virtual standstill, and almost everything we took for granted is no longer a given.
We have been warned. Not specifically about covid-19, but about the risk of a global pandemic. Yet in many countries we see that structures are not in place and warnings have been ignored for too long. As we are still grappling to understand what is happening, one cannot help but ask, whether governance systems have failed us.
When essential services are deprived of funding because it does not fit the political agenda of those in charge, this points to distorted governance systems that fail to set the right priorities for the public good. And can we really disregard the role corruption has played in fuelling this crisis? No, we cannot. It is clear that public officials have received grease payments to turn a blind eye to illegal trade in endangered species and disregard sub-standard hygiene in markets from where the  virus has seemingly spread.
Fighting corruption and strengthening governance may not be at the top of most officials' priority lists right now as they are busy trying to control the spread of the virus and keep mortality levels low. But when we take a step back and have more space to reflect on underlying causes, we will have a terrible re-awakening to the realisation that corruption and bad governance are devastating our world and our lives.
That's why at the Basel Institute, we see our mission of combating corruption and strengthening governance not as a cause in itself. Instead, we see it as our contribution to sustainable development, equitable growth, stability, respect for human rights and peace.
Our team has worked hard again in 2019 to make inroads toward these overarching global goals. We are proud of our achievements, and acutely aware how our work interplays with the work of many others, be it in anti-corruption and governance or in other fields. This includes health, where corruption and weak governance compromise the achievement of better development outcomes.
Our partnerships with governments, the private sector, other international organisations and civil society are critical. The covid-19 crisis has shown us like nothing else that we need to come together to go forward.
We hope that the work we describe in our annual report inspires you. By now, when we write this foreword, we know only too well what topic will dominate the year 2020. We sincerely hope to make a contribution to fighting the root causes of this pandemic, so that we may come out of this tragic crisis not only with losses, but also with a new understanding of our global responsibilities, individually and collectively.
Related publications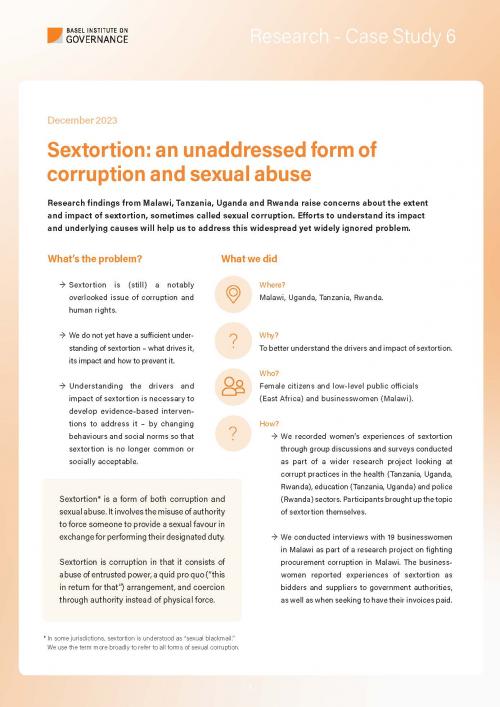 Research case study
Research Case Study 6: Sextortion – an unaddressed form of corruption and sexual abuse
2023 | Basel Institute on Governance
Johanna Schönberg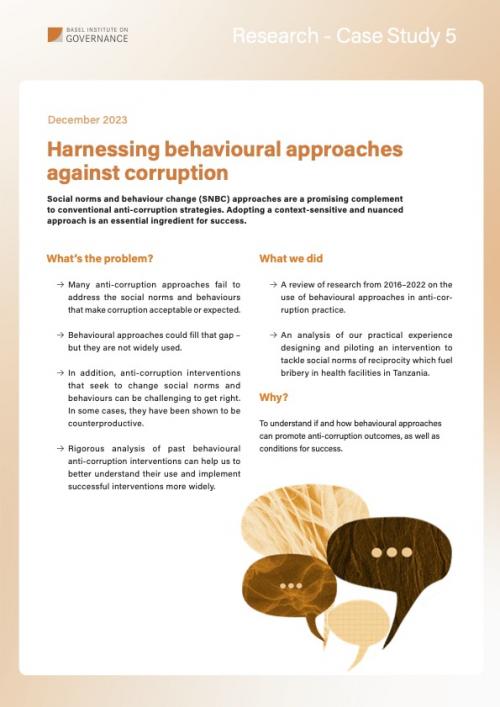 Research case study
Research Case Study 5: Harnessing behavioural approaches against corruption
2023 | Basel Institute on Governance
Claudia Baez Camargo, Saba Kassa
informal networks
social norms
behavioural research
anti-corruption messaging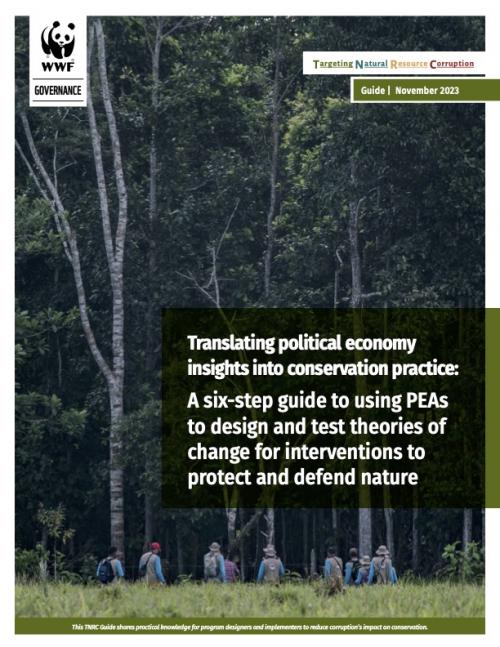 Guidelines
Translating political economy insights into conservation practice: a six-step guide
2023 | Targeting Natural Resource Corruption (TNRC) project
Micol Martini, Saba Kassa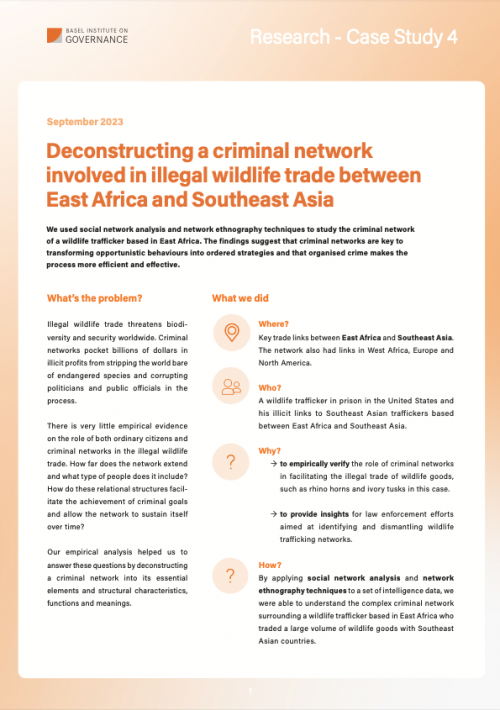 Research case study
Research case study 4: Deconstructing a criminal network involved in illegal wildlife trade between East Africa and Southeast Asia
2023 | Basel Institute on Governance
Jacopo Costa
social network analysis
network ethnography
illegal wildlife trade
informal governance
East Africa
Southeast Asia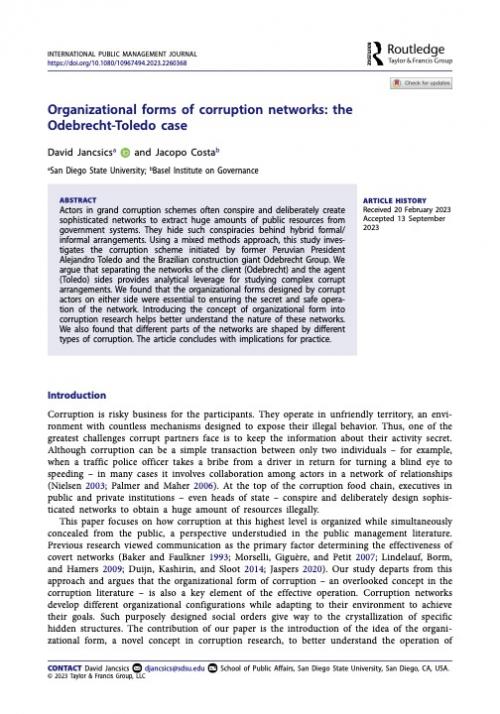 Article
Organisational forms of corruption networks: the Odebrecht-Toledo case
2023 |
David Jancsics, Jacopo Costa
social network analysis
money laundering
organised crime
criminal networks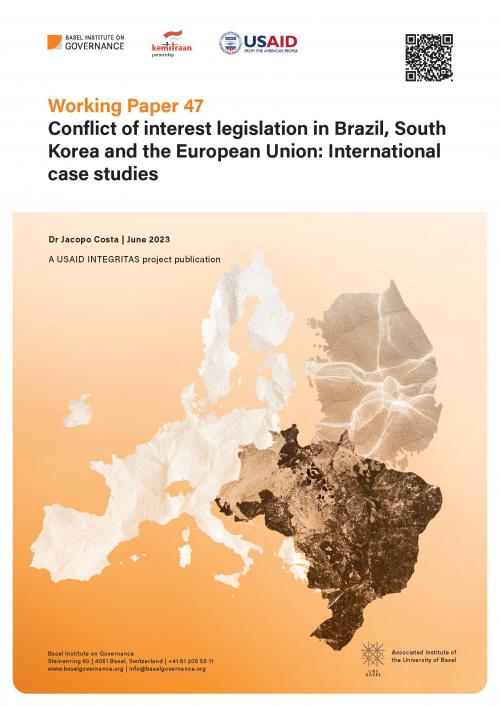 Working paper
Working Paper 47: Conflict of interest legislation in Brazil, South Korea and the European Union: International case studies
2023 | Basel Institute on Governance
Jacopo Costa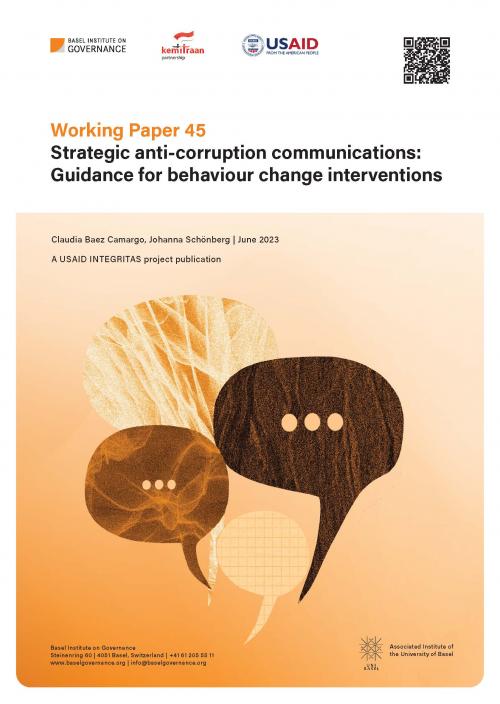 Working paper
Working Paper 45: Strategic anti-corruption communications – Guidance for behaviour change interventions
2023 | Basel Institute on Governance
Claudia Baez Camargo, Johanna Schönberg
behaviour change
anti-corruption interventions
anti-corruption messaging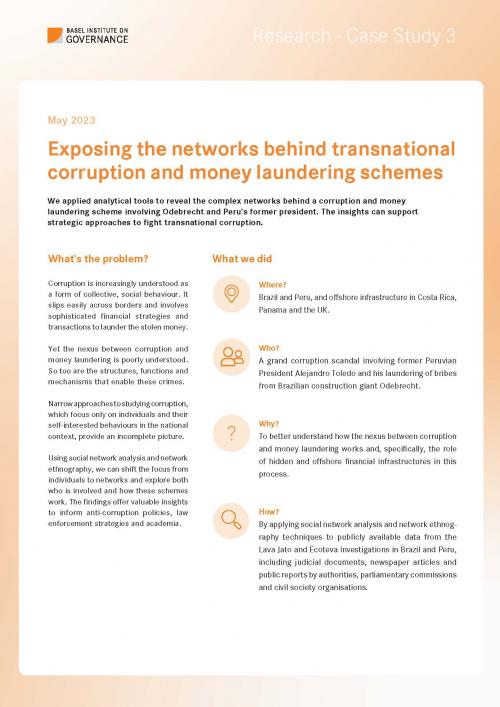 Research case study
Research Case Study 3: Exposing the networks behind transnational corruption and money laundering schemes
2023 | Basel Institute on Governance
Jacopo Costa
social network analysis
network ethnography
informal governance
corruption research
money laundering
offshore structures
secrecy jurisdictions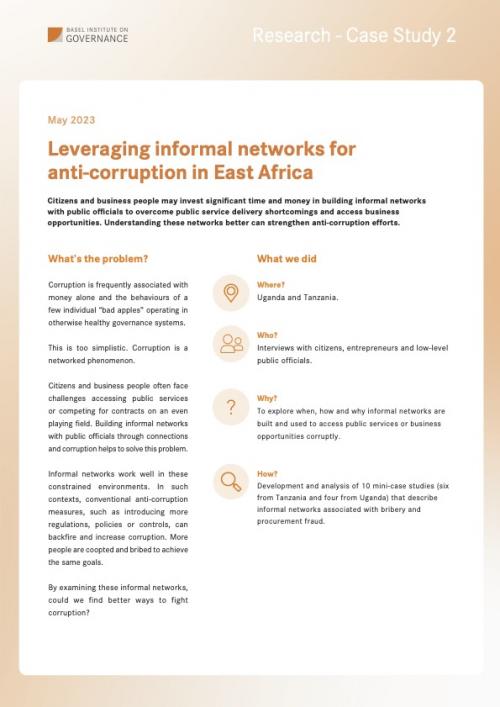 Research case study
Research case study 2: Leveraging informal networks for anti-corruption in East Africa
2023 | Basel Institute on Governance
Claudia Baez Camargo, Saba Kassa, Jacopo Costa
informal networks
informal governance
social norms
behavioural research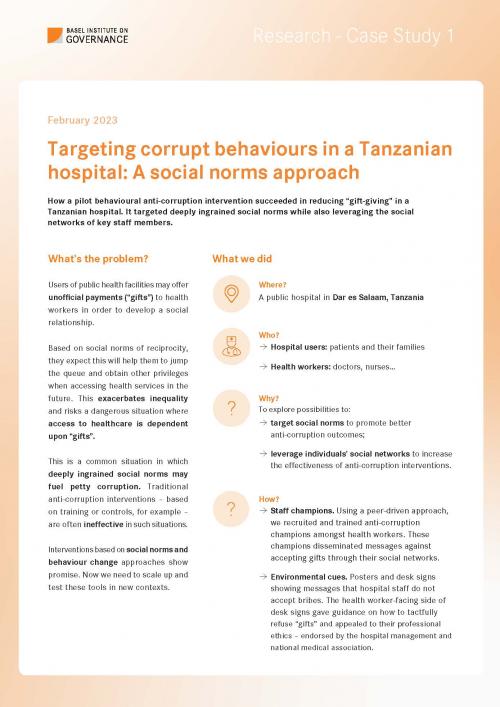 Research case study
Research case study 1: Targeting corrupt behaviours in a Tanzanian hospital: A social norms approach
2023 | Basel Institute on Governance
Claudia Baez Camargo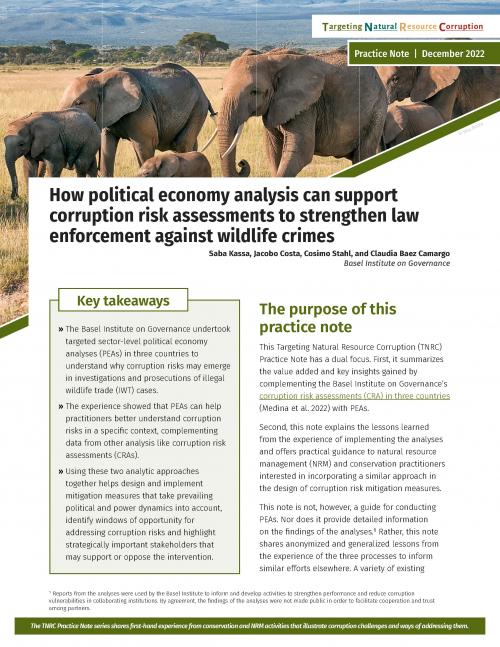 How political economy analysis can support corruption risk assessments to strengthen law enforcement against wildlife crimes
2022 | Targeting Natural Resource Corruption (TNRC) project
Saba Kassa, Jacopo Costa, Cosimo Stahl, Claudia Baez Camargo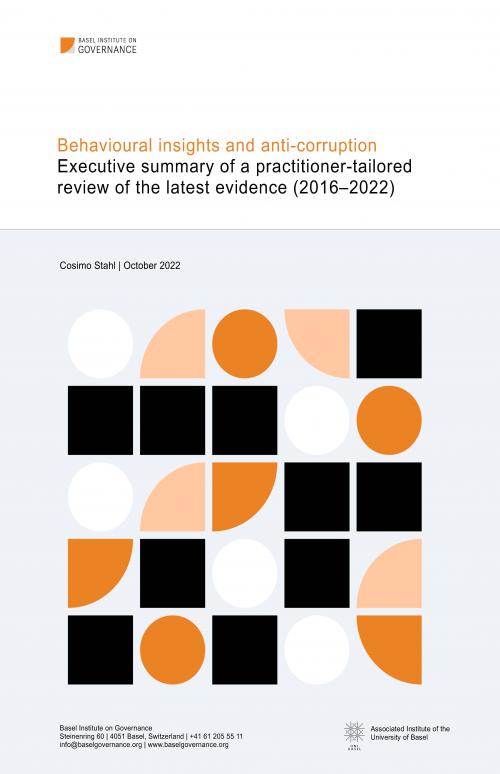 Commissioned study, Report
Behavioural insights and anti-corruption: Executive summary of a practitioner-tailored review of the latest evidence (2016–2022)
2022 | Basel Institute on Governance
Cosimo Stahl
anti-corruption
social norms
behaviour change
realist synthesis
behavioural insights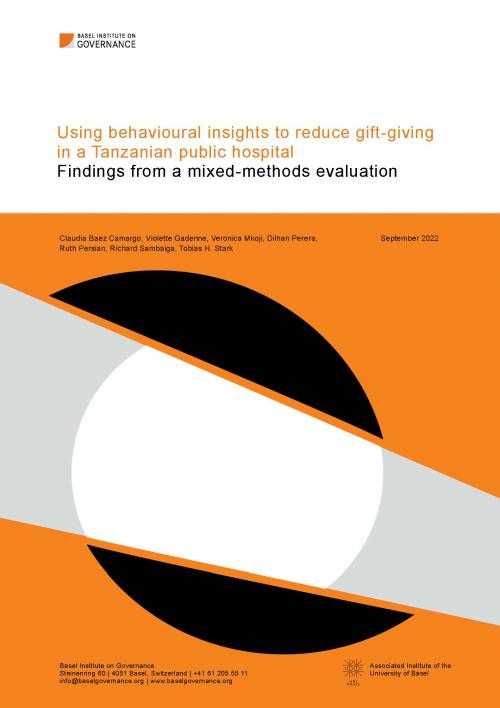 Commissioned study, Report
Using behavioural insights to reduce gift giving in a Tanzanian public hospital: Findings from a mixed-methods evaluation
2022 | Basel Institute on Governance
Claudia Baez Camargo, Violette Gadenne, Veronica Mkoji, Dilhan Perera, Ruth Persian, Richard Sambaiga, Tobias Stark
anti-corruption
health care
behavioural approaches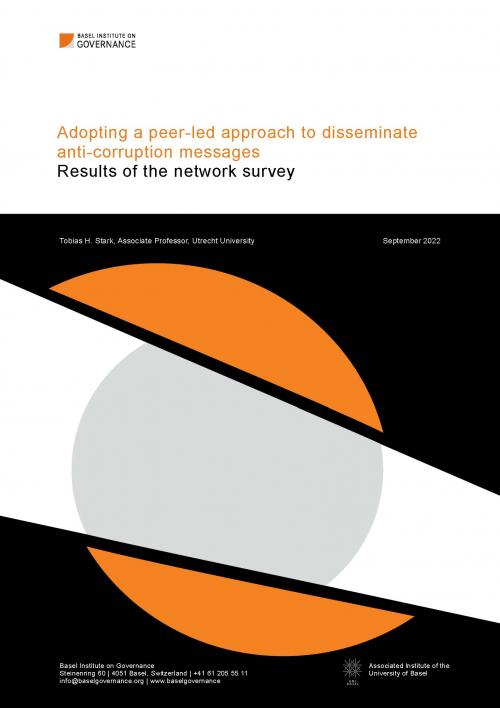 Commissioned study, Report
Adopting a peer-led approach to disseminate anti-corruption messages: Results of the network survey
2022 | Basel Institute on Governance
Tobias Stark
social network analysis
behavioural insights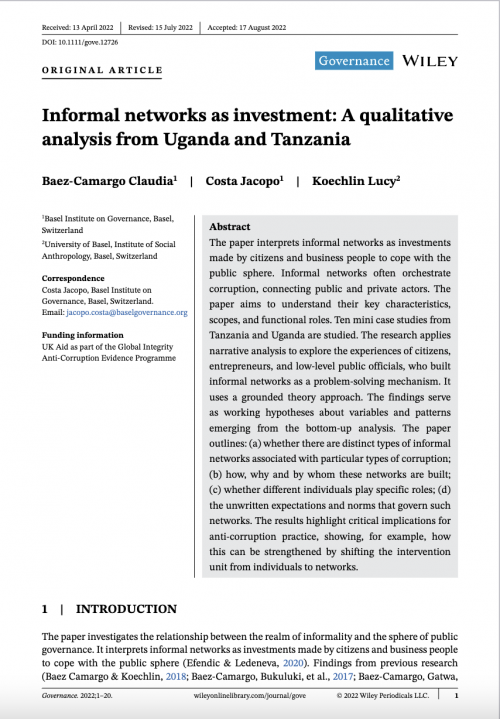 Article
Informal networks as investment: A qualitative analysis from Uganda and Tanzania
2022 | Governance (Wiley-Blackwell on behalf of the IPSA Structure and Organization of Government Committee)
Claudia Baez Camargo, Jacopo Costa, Lucy Koechlin
informal networks
informal governance
anti-corruption
social norms
behavioural research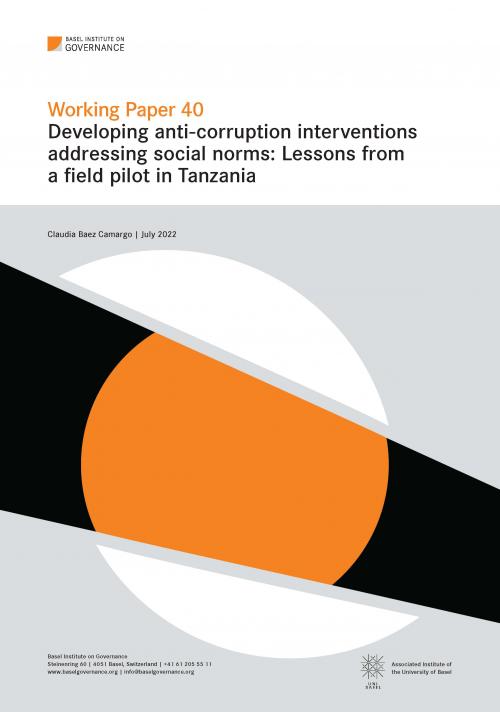 Working paper
Working Paper 40: Developing anti-corruption interventions addressing social norms: Lessons from a field pilot in Tanzania
2022 | Basel Institute on Governance
Claudia Baez Camargo
social norms
behavioural insights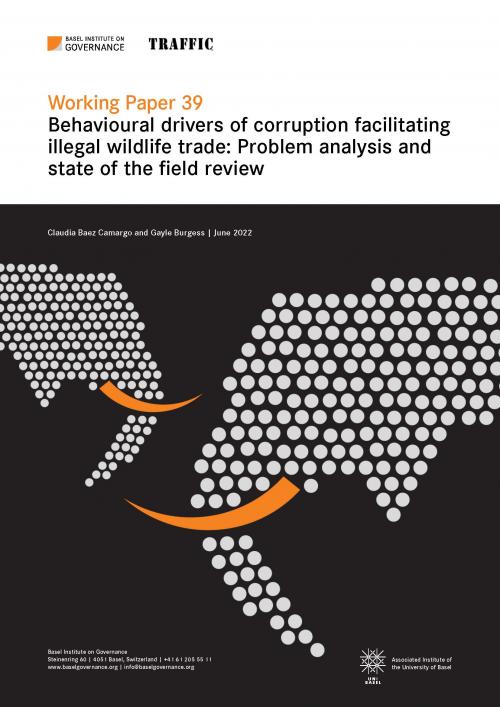 Article, Commissioned study
Working Paper 39: Behavioural drivers of corruption facilitating illegal wildlife trade – Problem analysis and state of the field review
2022 | Basel Institute on Governance; TRAFFIC
Claudia Baez Camargo, Gayle Burgess
natural resource management
illegal wildlife trade
social norms
behavioural insights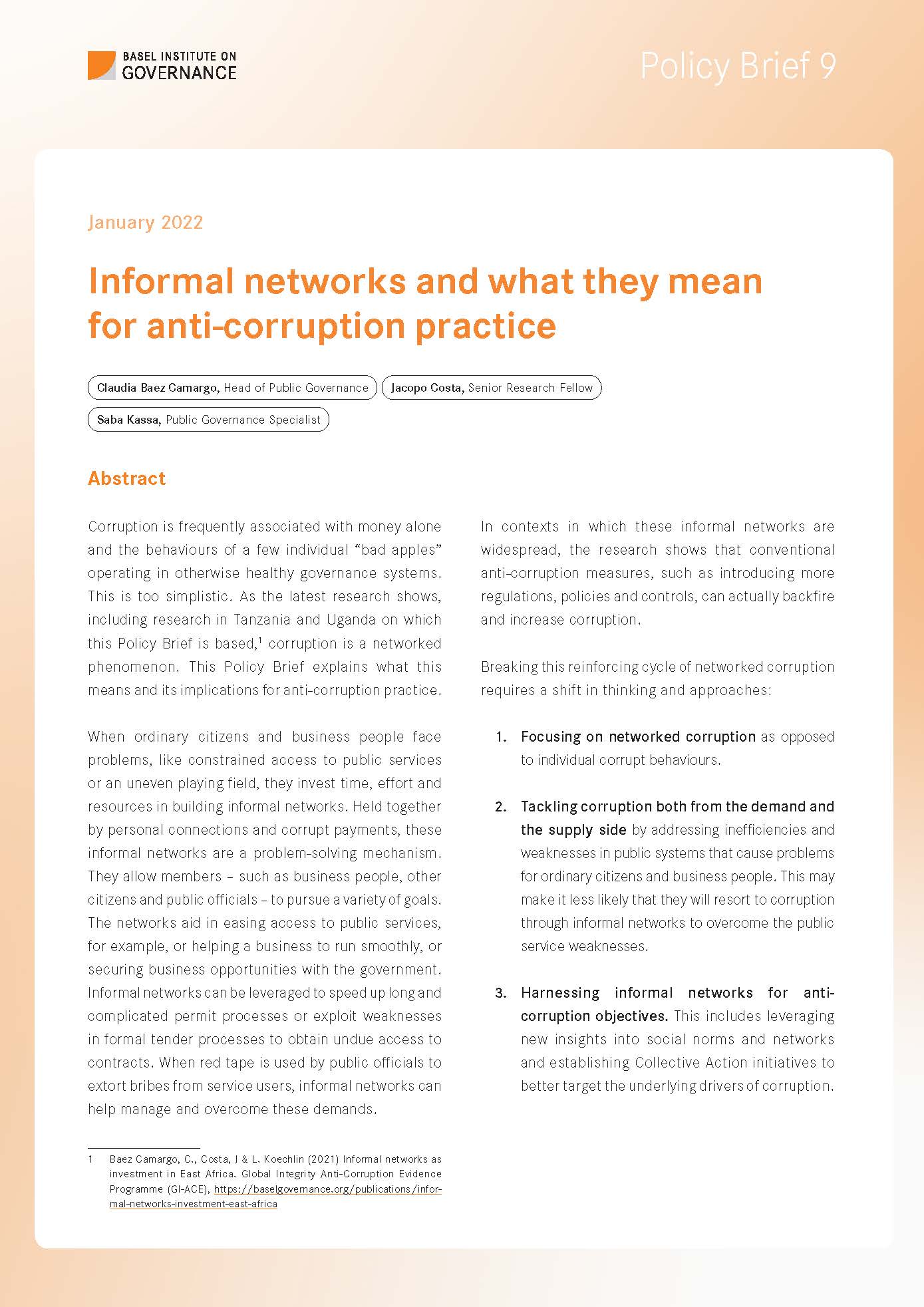 Policy brief
Policy Brief 9: Informal networks and what they mean for anti-corruption practice
2022 | Basel Institute on Governance
Claudia Baez Camargo, Jacopo Costa, Saba Kassa
informal networks
anti-corruption
anti-corruption evidence
East Africa
Collective Action
corruption
informal governance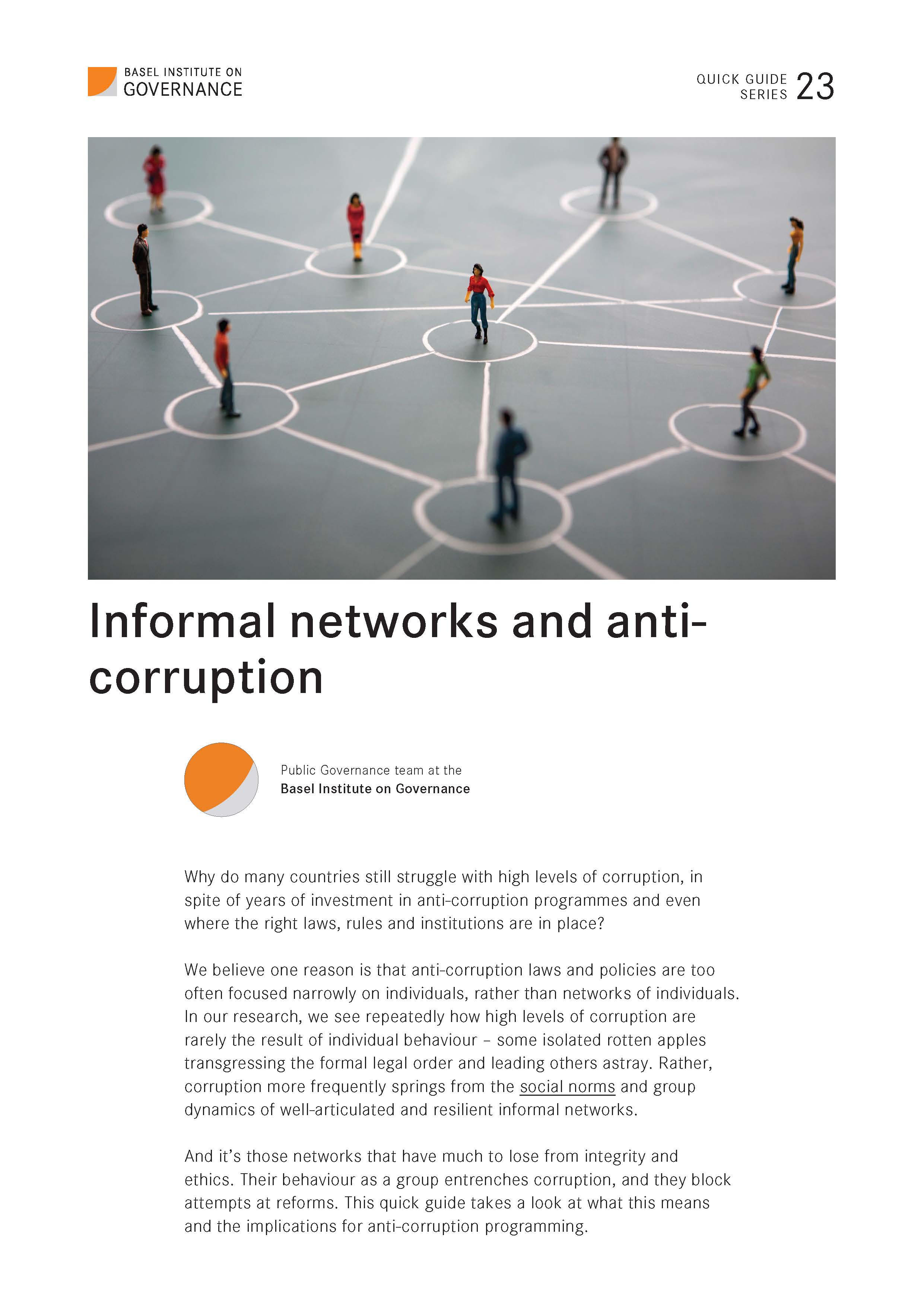 Quick guide
Quick Guide 23: Informal networks and anti-corruption
2022 | Basel Institute on Governance
Jacopo Costa, Claudia Baez Camargo, Saba Kassa, Cosimo Stahl
informal governance
informal networks
social network analysis
social norms
behavioural insights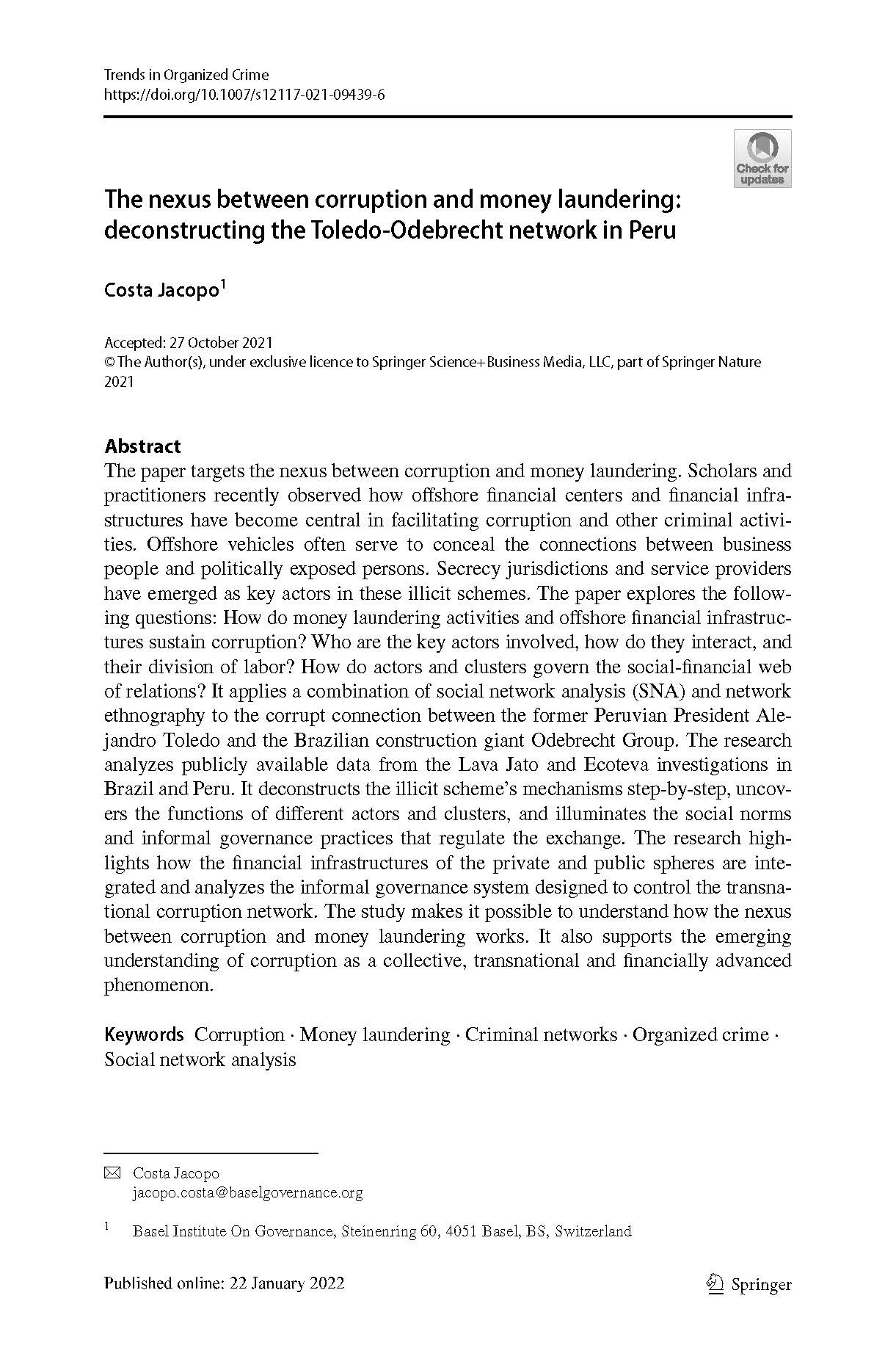 Article
The nexus between corruption and money laundering: deconstructing the Toledo‑Odebrecht network in Peru
2022 | Trends in Organized Crime
Jacopo Costa
corruption
money laundering
criminal networks
organised crime
social network analysis